The Reserve by Old Elk Gift Certificate
At The Reserve, the bourbon is unbeatable, the bites are beloved, and the atmosphere is unforgettable. Gift an experience they won't forget. 
BUY NOW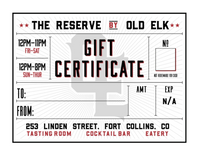 THANKS FOR VISITING!
If you're local to Fort Collins, Colorado - please come visit us at 253 Linden Street to purchase your favorite merchandise.
Cheers!
Have questions about your current order?
Feel free to contact info@oldelk.com with your order number and request.